John's XR4Ti Homepage




Dedicated to keeping my XR4Ti(s) on the road.

Contains maintenance procedures, fixes, modifications, upgrades, and hardcore nudity (well, OK - 4 out of 5 isn't bad)

Stick around, maybe you'll learn something, or maybe you wont, but the important thing is you are wasting time.
(Best when viewed while at work)

You can see my Audi A4 page here: http://a4tqms.tripod.com/audi/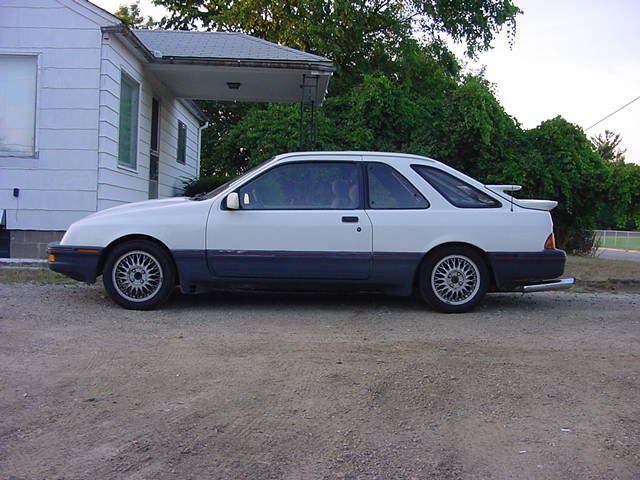 My 1986 XR4Ti




What's new?
June 05, 2003
Wow, long time since an update.
I haven't driven the car in quite a while, too busy working on my Audi
My little brother put a hole in one of the pistons, so some major work will be going on in the next couple of months
January 08, 2002
Hasn't been an update in a while, here's a summary of the last few months:
The turbo blew on my car, looks like it has been bad for a while now. Time for a bigger one.
Second gear is grinding, time for a T5 conversion.
Got my MAF installed via the EEC tuner, the sound and throttle response is amazing.
Got a clutch adjuster, front and rear brake brackets, and a master cylinder adapter from David Godfrey.
The car is now parked for the winter.
August 16, 2001
Rearranged the site a little, just doing some cleanup.
The Hose Technique's kit is installed, pics soon.
TC IC isn't installed yet, there are some coolant hoses in the way that I need to move.
August 04, 2001
Put a mustang exhaust tip on my car. Pics soon.
Got a Hose Techniques silicone vacuum hose kit. pics soon.
Also got a TC IC. Should have it installed soon.
June 14, 2001
Added a set of 89 BBS-style rims and removed the wheel arches on my car.
Been real busy with the diff group buy (see link on start page)
June 08, 2001
The XR is up and running, but I couldn't take it to Carlisle :(
Added my Carlisle pictures to the Pictures Page
May 25, 2001
Updated my XR pages, and added the Pictures page.
Gearing up for the long weekend. I can't wait to get this car done!
May 23, 2001
After spending 5 days working on my car, it's almost done. The drivetrain and front suspension are in. I have to do the rear suspension, hook the cooling system up, and wire the DIS up.
Updated the engine rebuild for my White XR a little more (I spent more money)
May 15, 2001
Spent another weekend working on my motor. Spent a lot of time running around for stuff. Got the bottom end done, and the head assembled, I just have to bolt it on.
Updated the engine rebuild for my White XR a little more. Added more pics too.
May 8, 2001
Updated the engine rebuild for my White XR a little more. I'm hoping I'll have it together this weekend. Carlisle is only a couple weekends away!
May 1, 2001
Updated the engine rebuild for my White XR. There's nothing worse then spending a bunch of money and time, and not being able to use it :(
April 17, 2001
Updated the engine rebuild for my White XR. I'm spending more than I planned on....
April 06, 2001
I haven't updated this site in a while. I'm working on it.
I got a plan together to rebuild my white XR. Page should be up shortly on it.
January 15, 2001
Updated site
Moved to a different server
October 25, 2000
Added the latest in the Merkur Saga
Reformatted for better viewing in 600x800
Added the EEC-Tuner page under upgrades and procedures
October 16, 2000 September 26, 2000
Added the procedures page.
September 25, 2000
Split up the upgrade pages for easier loading, added the homemade exhaust page.




This site was created by John Baas. Please email me if you find anything wrong, or have any suggestions. All content at this site is the property of me, unless otherwise noted.